ERAB Publications
Publications
ERAB Publications
UNDERAGE DRINKING – A REPORT ON DRINKING IN THE SECOND DECADE OF LIFE IN EUROPE AND NORTH AMERICA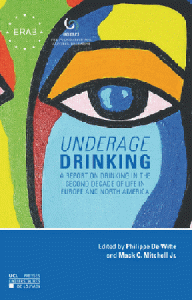 The complexity and importance of underage drinking prompted ERAB and ABMRF to initiate a state of the art review. It explores the extent of underage drinking across Europe and North America, as well as our current understanding of factors that increase the risk of this behaviour and potentially effective evidence-based approaches to prevent underage drinking. Unfortunately, the problem is complex and a single solution or policy to prevent underage drinking does not exist. Nevertheless, a number of strategies are effective in some circumstances and warrant further study in different populations. Preventing risky drinking requires understanding of the important influence of family and peers. It is also important to recognize that some genetic traits like impulsivity, anxiety, sensation seeking and emotional dysregulation can also influence harmful drinking. These aspects (family and peers and genetic influence) are affected by cultural and environmental influences which, in turn, can influence each other.
The overall goal of this project was to develop a set of recommendations that could be used by public health departments and key stakeholders in the individual countries that make up Europe and the United States and Canada. It is clear that a single solution to this problem cannot be identified, given the different cultural backgrounds. In addition to providing a menu of effective strategies, recommendations on the best method for applying them in different cultural settings are included. Although individual interventions may have low efficacy when used in isolation, combining several interventions may improve overall effectiveness.
Further copies, or a paperback version, are available at a cost of €26.00 for a paperback and €17.00 for a pdf in English. Please visit the website of the PUL (Presses Universitaires de Louvain)
A leaflet which includes the recommendations and key findings is also available here.
NEW FRONTIERS IN ALCOHOL AND HEALTH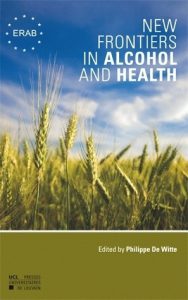 To mark its first seven years, ERAB has published a book, "New Frontiers in Alcohol and Health", edited by Professor Philippe De Witte. There are five main chapters written by members of the ERAB Advisory Board. Each presents the research funded by ERAB with its added value in the context of the body of knowledge in that area.
Professor TK Li, Former Chairman of Scientific Advisory Council of ABMRF, Former Director of NIAAA, NIH said "In today's world, we seek to understand, through scientific inquiry, why people drink, why some drink more than others, and why some drink despite negative consequences. Such scientific inquiries require the exploration of multiple spheres of influence ranging from genetic susceptibility to environmental risk within the context of prevailing socio-cultural norms. To this end, ERAB the European Foundation for Alcohol Research is an outstanding example of how the brewing industry and academia are working together to address these issues of mutual concern in contemporary European societies."
The book can be obtained on line at a cost of €16.50 for a paperback and €11.00 for a pdf in English.
A leaflet summarising the contents of the book has also been produced.  Click here for the pdf.
Save
Save
Save